What communication lessons does the (new) Pemex crisis teach us?
On Monday, November 11, 2019, #Pemex became a trending topic once again. The reason? A cyber attack on the entire company. Images like the one at the top of this post were shared on Twitter. Twitter was buzzing with rumors and speculation: journalists, experts, workers…have been waiting for the company's response. Apparently, it was a ransomware attack: a virtual kidnapping by hackers, who demand money in exchange for releasing the systems.
The silence is never a good response during a crisis.
What do we know by 7 p.m. about what is happening to one of Mexico's most important institutions -the time of this comment-? NOTHING. The company has not communicated anything, neither its director nor the Secretary of Energy. Well, she did scold those who share a supposed risk of gasoline shortage. But not a word about the real problem. Apparently, Pemex's priority is to share a tweet about Evo Morales and his arrival in Mexico, rather than informing its suppliers, clients, and investors about what they are doing to solve the problem.
In a crisis, you cannot wait to know what and how the problem happened.
Many companies use the argument of "if I don't know what's going on, how can I say anything?" While it is a responsible approach, it is not valid in a crisis. Why? Because in the absence of information, the void is filled with gossip, speculation, rumors, etc.
By the way, saying that "operations are running normally" when you already have a huge problem that is public knowledge is not a good decision.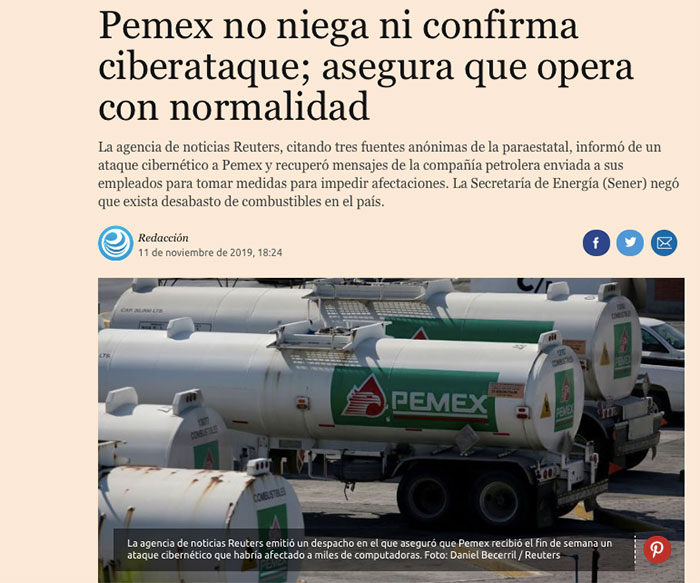 What can a company do in the face of an attack and the crisis it generates?
Many things:
Making a key public map to ensure that all relevant audiences will be informed.
Writing and sending an official statement (tweet, press release) that briefly explains what is happening and what they are doing to solve the problem (within 2 hours of the start of the crisis).
To explain that there are protocols in place to address a situation like this (if there are any).
Direct questions from different stakeholders to specifically designated spokespersons who can take note of their concerns.
Post every two hours about any updates, no matter how brief they may be, such as "the cybersecurity team is working with cyber police".
Inform that there is information that cannot be shared due to strategic and security reasons, but that progress is being shared transparently.
Not "scolding" the media or trying to control what is said on social media.
The #communication for #CrisisManagement helps to reduce the pressure on the company in trouble.
UPDATE. After 8:00 pm, the company issues a press release that is a model of HOW NOT TO WRITE A PRESS RELEASE IN A CRISIS:
Do not show your anger or feel under attack: "in the face of the wave of rumors and fake statements…".
Don't lie: 'Operates normally…' Employees have shared that nobody has used their computer today.
Do not scold society or your key publics: "we invite the oil community… to avoid rumors".
Don't focus on "the picture"; what matters is how you are addressing the problem.
Don't take more than 24 hours to respond and don't minimize the problem: "Yesterday…"
By the way, if this explanation were true… why did it take so long to issue a statement? #OuchPemex
The new media ecosystem puts pressure on companies to give quick responses to scandals and crises. Best practices for crisis communication include having a manual, guide, or communication protocol in place and training the committee and its spokespersons because when a ship starts sinking, it's too late to learn how to swim.